Call us at: 1 (800) 517-5377

New York Garage Door Installation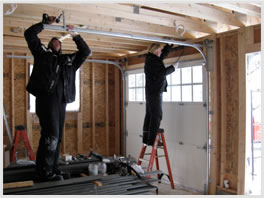 We install a wide variety of different garage doors and garage door accessories, including:
Sectional garage doors, that roll up across the ceiling of your garage panel by panel and come in both insulated and non-insulated varieties
Commercial garage doors, made of more heavy-duty and secure materials for all your business, industrial, or commercial needs
Garage door openers and motors, for easy remote use
Garage accessories, such as trim and styling
And so much more!
Your home's garage door isn't simply a security feature – it's part of the appearance of your home, increasing its appeal and style, not to mention its value. New York Garage door has been installing, repairing, and maintaining garage doors throughout the New York, NY area for years now, providing quick, affordable service for all our customers. Let us install your new garage door today – we guarantee our work will meet all your possible security needs. We will come to you to provide our expertise, offering estimates, and answering any questions you may have. With our experience, we can gauge what sort of materials and design configurations would be best for your home, so call us today and let us help you select the door perfect for you.
Call today! 1 (800) 517-5377
We know your garage door can go out at any time. If your garage door begins to act unreliably, we recommend not trying to fix it yourself – our trained technicians at New York Garage Door can come right away to help you with all your garage door related issues. The longer you wait, the more likely a key component may be more seriously damaged – the problem can worsen, fast, and bring with it not only reduced function, but increased cost of repair. An ounce of prevention is worth a pound of cure – call New York Garage Door at the first signs of trouble, and you'll never have to worry about serious garage door malfunctions.

We build and install custom garage doors for all your needs, in a variety of materials and designs. We will suit all your needs and wants at prices that won't break your budget. Our garage door specialists can install your door quickly and efficiently. You simply won't find better deals anywhere in the New York, NY area than with New York Garage Door. We're licensed, bonded, and fully insured, with trained, certified, and experienced technicians ready to serve you – call us today and let us give you the garage door of your dreams!
Call today! 1 (800) 517-5377
Our Garage Door Professionals Are Available 24/7
Call Now! 1 (800) 517-5377
We Proudly Accepts: